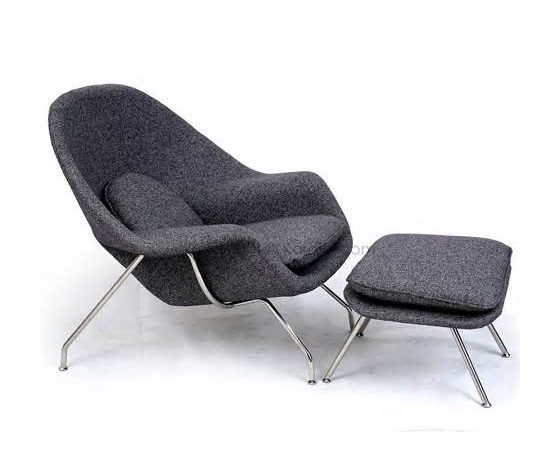 A-BONN Womb chair by eero saarinen
Material: italian leather,sponge, fiberglass,SUS304# polished stainless
Product size:100w*86d*92h
66w*53d*50h
CBM: 1
A-BONN Womb chair by eero saarinen
Product Description:
History and description of womb chair
A seriously comfortable chair, sit down and drift away. Designer Eero Saarinen said, "A chair should not only look well as a piece of sculpturein a room when no one is in it, it should also be a flattering background when someone is in it." The womb chair fulfils both requirements witha beautifully organic grace.
The wide, solid stance of this very functional chair allows the sitter to sprawl out every which way.Supplied Fully Assembled.The womb chair was designed by Eero Saarinen in 1948 and is considered among the ten best mid-century modern furniture designs. Chairs from this era were known for their form, function and flamboyance. They were more comfortable than their Bauhaus modern predessors, as they were essentially created for "lounging" -- a new activity for the 1950's.In addition to comfort, the womb chair highlights a new form of construction for chairs of the Mid-Century Modern decade. The basic structure of the chair is the molded fiberglass shell (we use composite plastic now), covered in foam and bright colored upholstery fabrics, also known for this period.
Our version of the womb chair, sofa and ottoman are excellent reproductions of these original designs. Very close in dimensions and angles, our chair has the same wide, flaring contours that encourage lounging, sprawling or curling up into a fetal position!