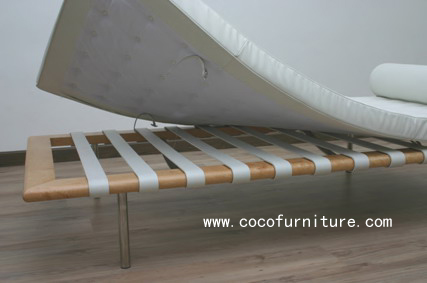 Barcelona bed inspired by Mies Van Der Rohe (8029)
Description:Walnut frame on chromed legs.
Mattress and headrest filled with PU-foam, covered with leather.
Dimensions:180 x 80 x 62 cm ( W x D x H )
Packing:
PVC wrapper, wrapped in non-woven fabric blanket, corrugated paper, chipboard, polyester fiber felt or according to customers' requirements
Barcelona bed inspired by Mies Van Der Rohe (8029)
Product Description:

Description of barcelona Daybed by Mies Van Der Rohe 12cm wide Walnut frame. two stainless steel bar racked on the wooden frame for fixedness. the Barcelona Daybed frame is lacquered with light or dark walnut;
Coverings made of individually stitched and piped square top italian leather pieces;
Covering on bottom of mattress made of top italian leather at 4 edges and cotton cloth in the middle;
A zipper sawed along the middle of one of the long edges so the foam can be moved out;
Mattress and headrest filled with flexible foam upholstered with double-layer leather belts tied to the frame. 11 pieces 6cm wide cowhide saddle leather riveted on the frame. Color availabe in red,white and black.Other colors will require quantity Stainless steel tubular legs.